Webshop solutions
Your own webshop with your products or services? We build with Laravel, Magento, Shopify or WooCommerce, among others.
We are experts in developing e-commerce webshops. For both the private market (B2C) and the business market (B2B).
From a simple WooCommerce or Shopify solution to a more advanced Magento solution.
With the help of links (plugins) we connect your webshop with carriers, payment methods, marketplaces and ERP systems.
Tailormade
Fully customized lightning fast webshops built with the Laravel Framework
Magento
The Rolls-Royce solution among the open-source webshops.
WooCommerce
The e-commerce plugin of Wordpress, fast, cheap and easy to use.
Shopify
Install a theme or plugin with the click of a button.
Our Ecommerce services
Regardless of which e-commerce platform you choose or already use, we are happy to help you with:
THEME DESIGN
Develop and design responsive and functional, search engine friendly and cross browser compatible Magento webshops from scratch or PSD file.
EXTENSION DEVELOPMENT
We understand that every company has its own unique elements. We develop custom extensions for Magento to meet those unique requirements.
API-INTEGRATIES VAN DERDEN
Install any Magento 1 or 2 third-party extensions in your existing Magento store.
ERP & DROP SHIPPING
Provides exceptional WooCommerce integration services regardless of your business complexity or technical requirements.
PAYMENT GATEWAYS
By providing an easy and fast checkout experience, you can increase conversions by using the right payment gateway integration with your online store.
SHIPPING METHODS
Instant checkout estimates, calculate shipping costs and time based on the weight and destination of the products.
SOCIAL NETWORKS
Connect to the most powerful social media networks including Facebook, Twitter, Google+, Pinterest and create more loyal customers and brand awareness.
PRODUCT IMPORT / MIGRATION
Upgrade your existing applications / websites to the Magento framework without any downtime and data loss.
PERFORMANCE OPTIMIZATION
Increase your sales through a fully optimized site. We make it all possible by enabling flat categories, merging CSS and JS files, efficient CDN, caching, image optimization and more.
API INTEGRATIONS
Integrate any third-party application to turn your online store into a state-of-the-art webshop.
AANGEPASTE PROGRAMMERING
Build your highly customized e-commerce website or application that best fits your company values, preferences and all your other requirements.
MAINTENANCE AND SUPPORT
Maintain the Magento site using measures such as functionality and technical improvements, regular code reviews, design updates, Magento updates etc.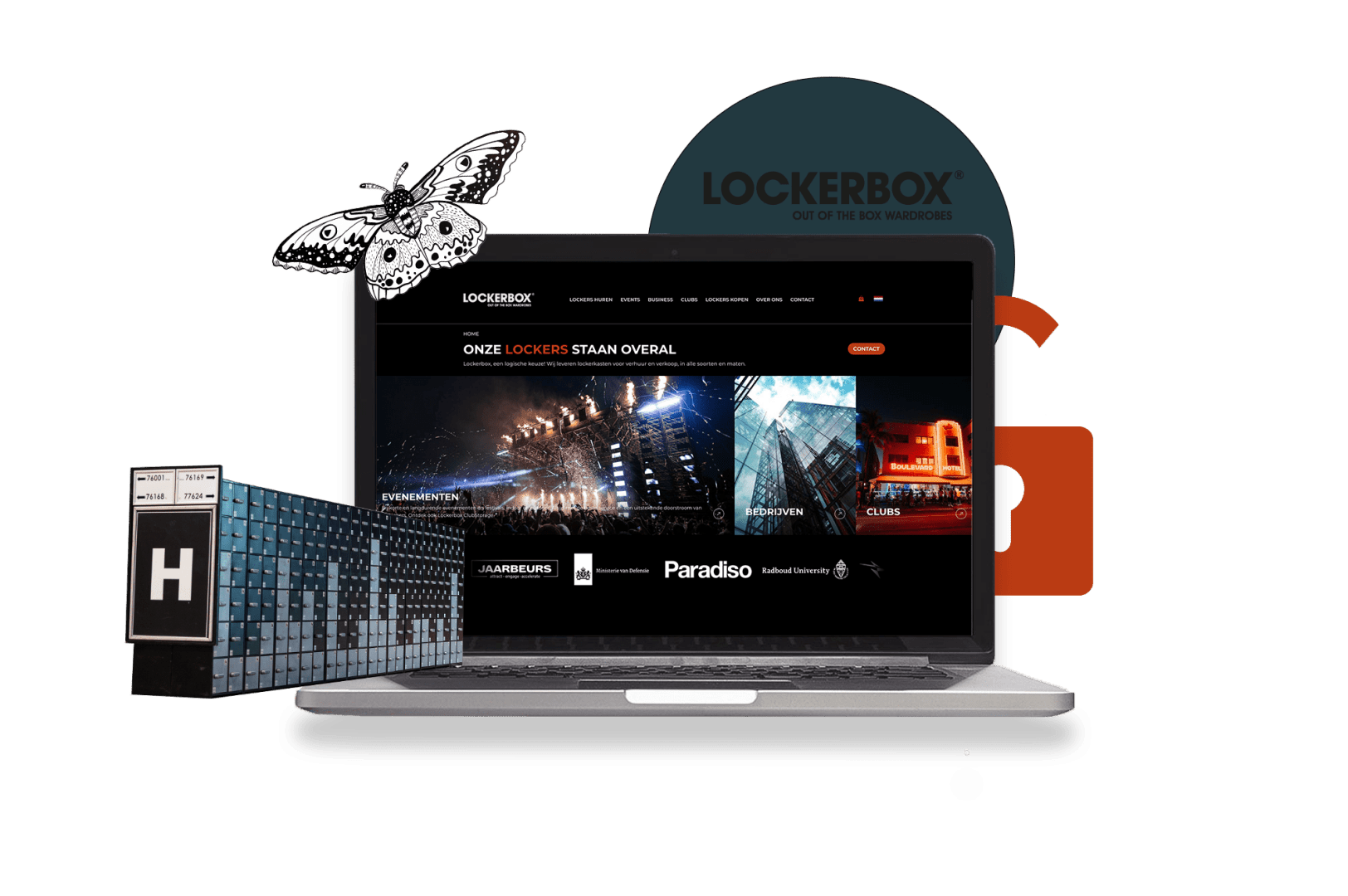 Lockerbox
The party when you need lockers. They supply locker cabinets for rental and sale, in all shapes and sizes. Lockerbox lockers last a lifetime, are reliable and robust.
We have been able to write a custom made Laravel website with a webshop (mollie integration) and extensive CMS. Contact forms are automated and a link (API) with Teamleader. In addition, we are building a dashboard to provide insight into all sales.
View all our cases